There is so much at stake when we think about the very essence of the American church as being adolescent.
The Juvenilization of American Christianity is one of the best book titles that I have known. It is best because it is so clever, but also because it is so accurate about the problem that is addressed so well by the book.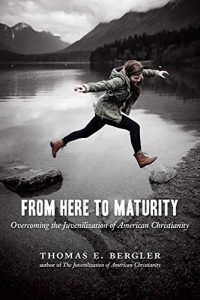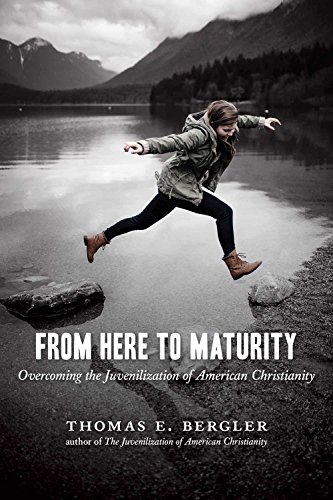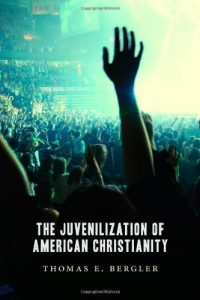 It may be difficult for some to think about American Christianity as juvenile because of the role of Christianity in the founding of America and the enormous role that America has played in the global expansion of Christianity. However, advanced age is not necessarily the same as maturity.
In The Juvenilization of American Christianity, Thomas E. Bergler explains how he understands American Christianity going from maturity to immaturity. In From Here to Maturity (another great book title), Bergler explains how he thinks we can overcome the juvenilization of American Christianity.
Adolescent Christianity
In his introduction to Juvenilization, called "We're all Adolescents Now," Bergler gives an extensive explanation of what he means by juvenilization by exploring adolescence as a developmental life stage, adolescence and social structure, and adolescence and culture.
Here are several quotations that provide a good glimpse into what he has to say:
"Juvenilization is the process by which the religious beliefs, practices, and developmental characteristics of adolescents become accepted as appropriate for Christians of all ages." – Page 4
"Adolescent spirituality favors physical activity, touch, and other bodily ways of expressing faith." – Page 9
"Adults influenced by adolescent Christianity romanticize the supposed idealism and zeal of youth and try to force each other to conform to those patterns." – Page 10
"They care more about the quality of their religious friendships than about truth." – Page 10
"Adolescent Christians are preoccupied with self-exploration and personal transformation." – Page 11
"Adolescent Christians see the faith as incomplete unless it is affecting them emotionally." – Page 12
"Adolescent Christians insist that their faith adapt to their social world." – Page 13
"Adolescent Christians expect their faith to be fun and entertaining." – Page 14
"Adolescent Christians don't expect to be adults for a long time, so they don't particularly care if their Christianity prepares them for adulthood." – Pages 14-15
The significance of the issue is made very clear at the end of the introduction. Bergler says that "Adolescent churches are more likely to conform to the supposed needs or desires of young people than they are to shoulder the more difficult task of forming the young" (Page 16).
It isn't just the presence of juvenilization in churches that bothers Bergler, but the fact that juvenilization has essentially become the goal. "Why should anyone care about juvenilization?  Early in my college teaching career, I asked a group of my students, 'What does a mature Christian look like?' They disliked the question and resisted answering it. 'I don't think we ever arrive in our spiritual growth.' 'We're not supposed to judge one another.' 'No one is perfect in this life.' Sadly, these evangelical college students did not believe that Christian maturity was either attainable or desirable. The churches that had nurtured these young people well enough to get them to pursue a Christian college education had not managed to inspire them with a biblical vision of spiritual maturity" (Page 18).
"Adolescent churches are more likely to conform to the supposed needs or desires of young people than they are to shoulder the more difficult task of forming the young."
Four Case Studies
Bergler explores in-depth the problem of the juvenilization of American Christianity primarily through four case studies that are interwoven through the book. The four case studies are:
Youth for Christ, a dynamic parachurch ministry founded to do youth evangelism and its influence on evangelical churches
Catholic Youth Organization and other efforts within the Catholic church to engage young people
National Conference of Methodist Youth as an example of juvenilization in mainline churches
Various youth ministry efforts within African American Baptist churches.
The bulk of the book is a somewhat historical progression of the juvenilization of American Christianity with evidence drawn from these case studies, but with an emphasis on each of the case studies one-at-a-time. "Youth, Christianity, and the Crisis of Civilization" explains the emergence of youth ministry in the 1930s and 1940s. "From then on, almost any innovation could be justified in the name of saving young people. Who could worry about the long-term impact of youth work on the church when the fate of civilization hung in the balance?" (Page 40).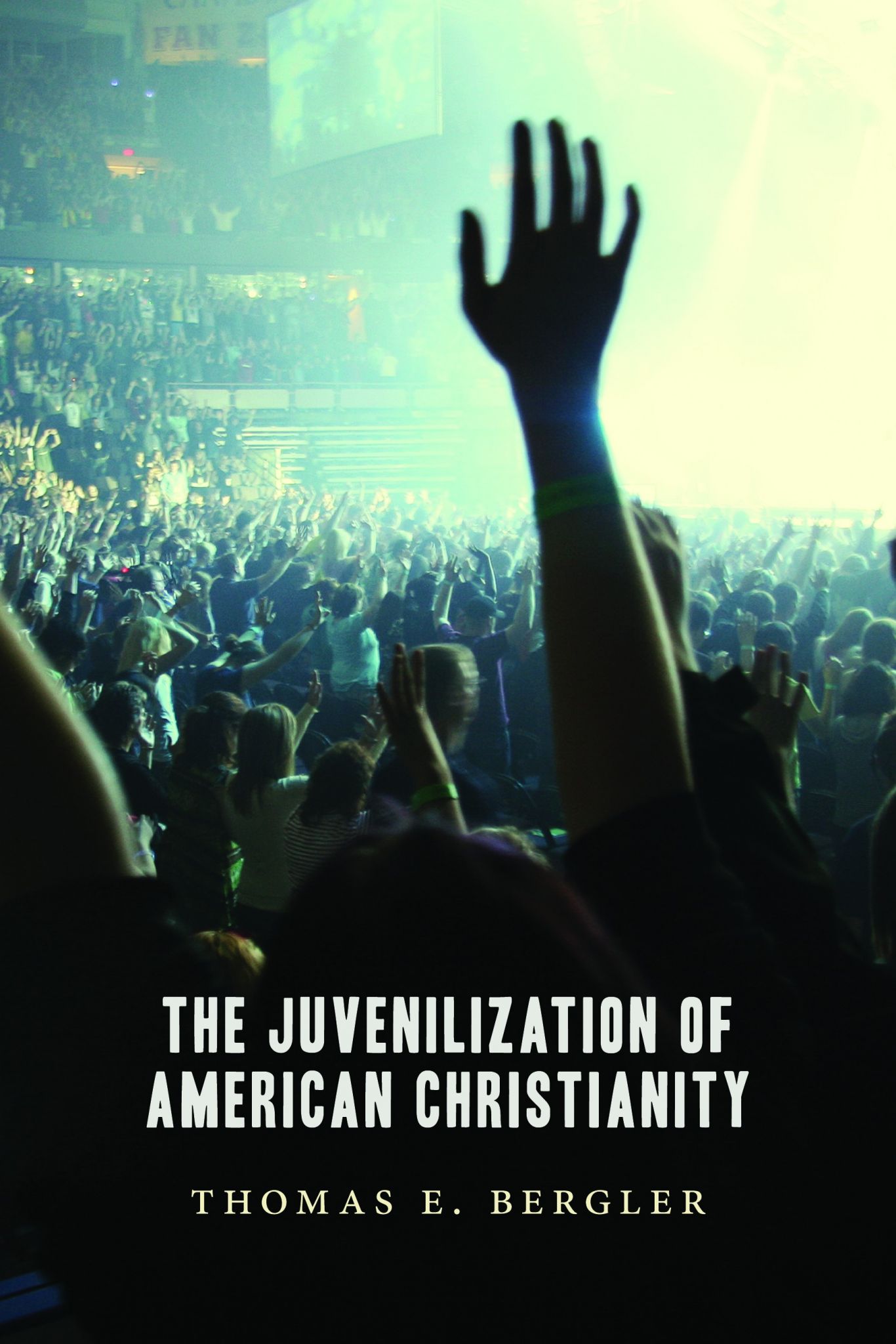 "Misreading the Signs of the Times: From Political Youth to Trivial Teenagers" shows how Youth for Christ and other youth-focused efforts shifted from importance to triviality. "The newly labeled 'teenagers' would from now on be increasingly seduced by the siren song of high school social life dominated by fun, sports, dating, movies, music, and fashion. While adult values and youthful tastes have often clashed over the centuries, what was changing was the relative balance of power between the two and the length of time between puberty and full adult status" (Page 65).
"Social Prophets or Silent Generation: The Failed Juvenilization of Liberal Protestantism" shows how mainline efforts to mobilize youth for social progress failed to have significant impact. "By locating the fulcrum of social change among young people and putting them more or less in charge of it also had its dangers. If young people were the best activists because of their 'natural idealism,' their lack of prejudice, or other innate qualities, where did that leave adults? … during the 1960s, more and more liberal young people would take these messages to heart and reject the church that had nurtured them" (Page 90).
"The Black Church and the Juvenilization of Christian Political Activism" also shows how efforts to mobilize youth for social progress fell far short of its ambitions. "By 1960, young African Americans had created an impressive new form of Christian life that combined the powerful resources of the black church with a commitment to nonviolence and a dash of fun and excitement. … What would happen to young people and the church if civil rights victories, white backlash, and youth rebellion combined to weaken the very African American institutions that had so successfully formed generations of young people?" (Pages 117-8).
"Why Everyone Wanted to Get Out of the Catholic Ghetto" explains how Catholic efforts were not sufficient to hold on to Catholic youth. "As a result, the Catholic youth ghetto often became a claustrophobic subculture in which young people hear that they must win the Cold War by keeping sexually pure, saying the rosary, and participating in Catholic social clubs. Despite their best efforts, many parish and diocesan youth programs did not teach young Catholics how to be responsible, active adults, but rather taught them how to be adolescent consumers of Catholic identity markers" (Page 145-6).
"How to Have Fun, Be Popular, and Save the World at the Same Time" is largely a description about how Youth for Christ created a teenage evangelical spirituality. "Youth leaders and teenagers created a full-fledged juvenilized version of evangelical Christianity during the 1950s … embraced fun and entertainment while maintaining strict rules about bodily purity" (Page 174).
"Youth, Christianity, and the 1960s Apocalypse" reveals how much juvenilization of American Christianity had taken over the churches. "Some young Christians who lived through the 1960s learned to value the political dimensions of their faith more than members of previous generations. But even more of them began to see the institutional church as an impediment to personal fulfillment. … In the long run, the rebellious styles of sixties youth proved more popular among the middle class than the substance of their social vision" (Pages 205-7).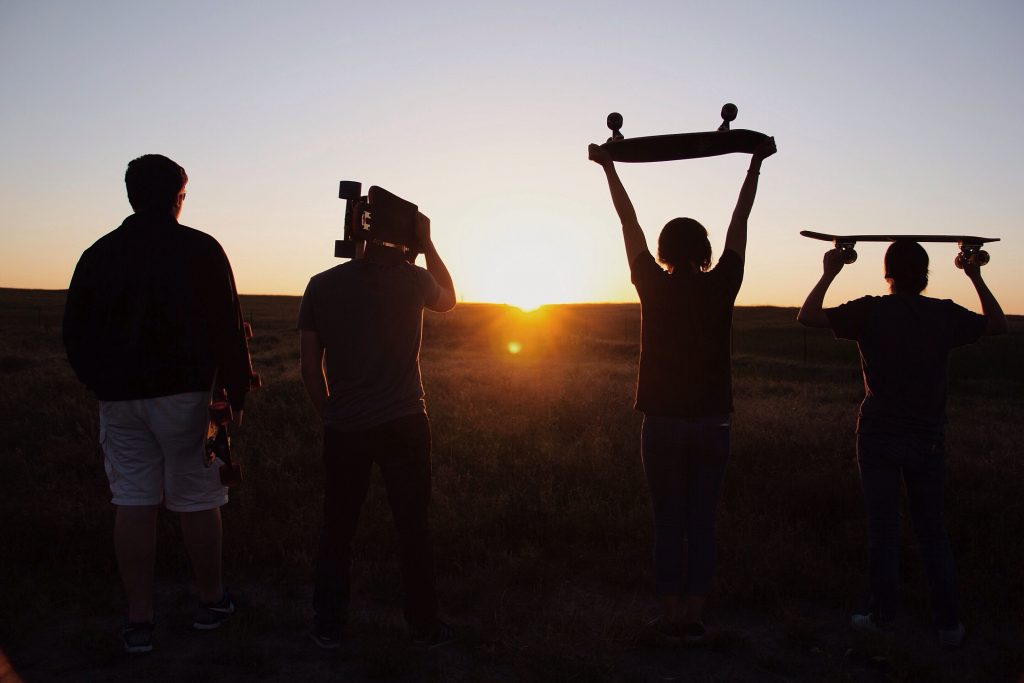 "The Triumph and Taming of Juvenilization" acknowledges the good that was accomplished, but also recognized what was lost. "Juvenilization has kept American Christianity vibrant … The musical styles and multimedia sophistication may be new, but the ministry philosophy is the same one that created the Youth for Christ rallies of the 1950s" (Page 208). Bergler relies on the research of Christian Smith and Melinda Lundquist Denton in Soul Searching: The Religious and Spiritual Lives of American Teenagers that found that "American teenagers are surprisingly inarticulate about their faith," but seem to rely on something that could be called Moralistic, Therapeutic Deism in which "Teenagers are 'moralistic' in that they believe that God wants us to be good, and that the main purpose of religion is to help people be good. But many think that it is possible to be good without being religious …" (Page 219).
In summary, Bergler states that "Although juvenilization has renewed American Christianity, it has also undermined Christian maturity. First, the faith has become overly identified with emotional comfort. And it is only a short step from a personalized, emotionally comforting faith to a self-centered one. Second, far too many Christians are inarticulate, indifferent, or confused about their theological beliefs. They view theology as an optional extra to faith, and assume that religious beliefs are a matter of personal preference. Many would be uncomfortable with the idea of believing something just because the Bible, the church, or some other religious authority teaches it. And they are particularly resistant to church teachings that impose behavior restrictions. If we believe that a mature faith involves more than good feelings, vague beliefs, and living however we want, we must conclude that juvenilization has revitalized American Christianity at the cost of leaving many individuals mired in spiritual immaturity" (Page 225).
"Although juvenilization has renewed American Christianity, it has also undermined Christian maturity."
From Here to Maturity
Bergler's solution is "Pastors and youth leaders need to teach what the Bible says about spiritual maturity, with a special emphasis on those elements that are neglected by juvenilized Christians. Both teenagers and adults need to hear what Jesus and the apostles taught: that every Christian should reach spiritual maturity after a reasonable period of growth" (p. 226). Bergler doesn't just make a call for this solution. He wrote another volume to support implementation of the solution. It is From Here to Maturity: Overcoming the Juvenilization of American Christianity.
The bottom line evidence of the lack of maturity is a summary of the findings of Christian Smith, et al, and published in Lost in Transition: The Religious and Spiritual Lives of Emerging Adults. "In particular, Smith and his research team found that American society is not preparing young people to become healthy, productive adults in five important areas of life:  moral reasoning, higher life purpose, substance use, sexuality, and civic engagement" (p. 6). Bergler defines the now common spirituality of adolescent faith as "If I'm having a hard time, it makes me feel better," emerging adult faith as "My faith is what's best for me," and adult faith as "religious doctrines get in the way of truly relating to God" (pp. 12-17).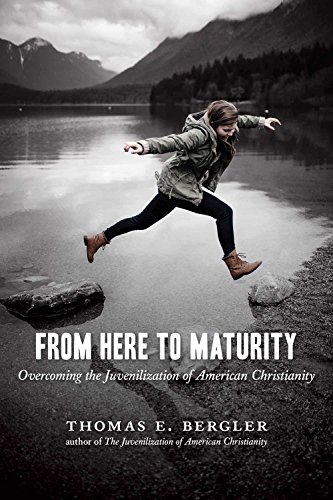 Bergler's understanding of spiritual maturity means beginning well with one's faith. "We must begin by facing the fact that a significant number of Christians do not regard growing up in Christ to be an intrinsic part of what it means to be a follower of Christ" (p. 27). It is important that the gospel preached includes a sense of the implications of faith, namely a vision of maturity as "basic competence in the Christian life" (p. 33). Bergler's working definition of spiritual maturity is "the foundational level of spiritual formation of the human heart resulting in thoughts, feelings, and choices that display basic competence in the Christian life" (p. 54).
The content of spiritual maturity is to "know the basic truths, display discernment, be connected to the body of Christ (the church) where they are helping others become mature and are sharing with them in the mission of the kingdom of God, and live a life of love" (p. 49). The process of growing spiritually is derived from Dallas Willard's VIM Model of Vision ("to see the kind of person God wants you to become"), Intention (motivation to be that kind of person), and Means (spiritual disciplines to be undertaken) (p. 58).
Praise for the Books
There are many important things for which to praise the tremendous contributions of Bergler in these books. For instance, the titles themselves are catchy and provocative. I think many of us have a sense of the juvenilization of the church, but we didn't know what to call it. It is much more than a mere preoccupation with Baby Boomers. There is so much at stake when we think about the very essence of the American church as being adolescent.
It is so refreshing to find someone who deals straightforwardly with the concept of spiritual maturity. Bergler treats it as something normal in biblical teaching, not some unattainable goal or process of continuous development. Spiritual formation gets lots of attention, but often without corresponding attention to spiritual maturity. Paul often writes about building up of the church to maturity, but most dismiss it in terms of any practical definition. The inability of the American church to have clear definitions of spiritual maturity have left even the sincere to flounder and not really know whether they are truly progressing.
Bergler roots his analysis is serious lessons from history. His books are not mere opinion pieces. The case study approach is a very good way to probe the depths and diversity of the problem in the American church. The lenses of the evangelical, mainline, black, and Catholic experiences provide special insight into each, but also a clear view of the American church in its broadest sense.
"A mature church has strong, well-trained, qualified leaders in place, is properly engaged in the progress of the Gospel, and has programs to sustain its own outreach and edification efforts."
Critiques
Excellent books like Bergler's build a foundation on which concepts and critiques can take the discussion even farther. Here are a few of my critiques:
1. Church Maturity. Was the American church ever actually all that mature? Bergler admits that some who read his first book thought he was "just being a grumpy old man" (From Here to Maturity, p. xiii). Of course, Bergler is not just a grumpy old man. He is a careful scholar with particular expertise on the impact of youth ministry in the twentieth century. However, he does seem to have a sense that things were better than they were. Church attendance, superficial morality, and rote theological knowledge may have been more the norm in previous decades, but I'm not convinced that I would call that true spiritual maturity.
In fact, I'm not sure that Bergler has actually given a proper definition of spiritual maturity at the church level. Certainly a church filled with people who are spiritually mature is better than what we have now. However, a mature church is more than just a bunch of spiritual mature individuals. A mature church has strong, well-trained, qualified leaders in place, is properly engaged in the progress of the Gospel, and has programs to sustain its own outreach and edification efforts. Chapter 4 on in From Here to Maturity ("Reaching the Tipping Point: Youth Ministries That Help the Whole Church Mature") provides an excellent description of how youth ministry can play a significant part in improving the situation, but it focuses on greater development of individuals, not necessary the church as more than the sum total of its parts.
The appendices in From Here to Maturity are helpful, but quite limited. For instance, the list of "Resources for Cultivating Congregational Cultures of Spiritual Maturity" are books on the subject, not curriculum or processes to implement. One of the unique things about BILD is that it provides resources and systems for church-based theological education for all believers and are designed to be used within the context of church leaders strengthening churches and church networks.
2. Leadership Development. While the books helpfully focus on spiritual development of individuals, it tends to treat all individuals too similarly. It does not focus on the unique role of leadership development in building mature churches, other than the unique role of youth leaders. However, in most church contexts, youth ministry still remains a subset of the larger church. Despite the influence that may be generated from the youth ministry program, there needs to be a much more concerted effort on the rest of the church staff, elders, deacons, and other forms of church leadership.
Bergler provides a robust explanation for how the American church's approach to youth ministry has led to its juvenilization. However, he doesn't address some key institutions that have contributed to the problem. For instance, most of the youth leaders and parachurch ministry leaders who have led us to juvenilization were trained in formal Bible colleges and seminaries. It would have been interesting for Bergler to probe the connection between their ministry training and their ministry outcomes. Similarly, although talking about how some parachurch ministries took the focus on spiritual development out of the churches themselves, Bergler didn't sufficiently address the impact that even the training of youth leaders by these parachurch agencies had on the local churches.
3. Post-Modern. The books were largely retrospective to understand where we are and how we got here. And while they proposed a solution, the solution didn't seem to be ground well in the realities of post-modern America. If fact, I'm not sure that I ever even read the word "post-modern" and it is not listed in the index of either book. It seems that the contribution would have been even better if Bergler had more specifically addressed the problem and solution in terms of a post-modern world.
4. Spiritual Maturity Itemization. It was a bit confusing to know exactly what Bergler meant by spiritual maturity because the itemizations on pages 49, 53, and 62-63 in From Here to Maturity have significant differences. It would have been helpful to have a core model from which various presentations could be adjusted, but with the core still in view, so that others can build on the core model as they customize.
The bottom line is that Berger has made a massive contribution toward the spiritual maturity of the American church. If nothing else, he has presented the problem in a way that is inescapable. Fortunately, he has also given us much perspective and direction on corrective steps to take. Hopefully, the American church, particularly its leaders, aren't too immature to take seriously his assistance.