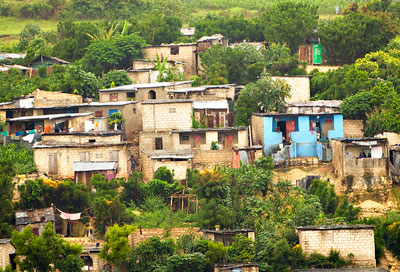 Rebuilding Haiti is a spiritual and social matter. It is not just about physical structures, agriculture, and economic systems. The Antioch School is playing a key role in helping a network of church networks in Haiti train 1,600 pastors.
On January 12, 2010 a catastrophic earthquake hit the island nation of Haiti. An estimated 316,000 people died, another 300,000 were injured, and 1,000,000 were made homeless as 250,000 residences and 30,000 commercial buildings collapsed or were severely damaged.
Since then, a second "earthquake" with numerous "aftershocks" continues to rock Haiti. The earthquake has taken the form of more than 10,000 NGO's (non-government organizations) currently operating in Haiti. Some Haitians say that the overabundance of NGO's is now a bigger problem that the earthquake. Even though many NGO's are run by Christians with good intentions, they are creating an environment of dependency that is eroding the self-initiative and self-sufficiency of the Haitian people.
In September 2012, the Antioch School took part in the "Rebuilding Haiti" track of the New York Leadership Center's Movement Day. Dozens of Christian ministry organizations gathered to describe their contributions and try to find ways to partner. It is amazing how many innovative and creative ideas are being brought to Haiti by Christian organizations (e.g. innovative agriculture such as aquaponics and moringa farming). However, the Antioch School stands in a unique place because it focuses on the centrality of the church and the development of church leaders are being crucial for the rebuilding of Haiti.
Mullery Jean-Pierre, Pastor of Beraca Baptist Church and President of Beraca Community Development Corporation, presented the story of what has happened since the 2010 earthquake. Churches in Haiti have networked together like never before and are taking seriously their central role in rebuilding the country. BILD International and the Antioch School are serving 1,600 pastors in Haiti through a network of church networks.
Unfortunately, many of the Christian NGO's don't want to work with Haitian churches and pastors because some pastors have taken advantage of the goodwill of NGO's and some churches don't really care about community development. However, strong churches with godly leaders are still at the core of God's plan for Haiti, as well as everywhere else in the world. The Antioch School is helping these pastors be well-equipped for ministry, but also for community development in their cities, towns, and villages.
A $5,000 sponsorship of a Haitian pastor not only enables him to earn a degree from the Antioch School and be well-trained for his ministry role, but also to be trained in a tent-making skill that can be used by him and others in a church-based business venture that will become a source of support for community development. For more information about how you can help the Antioch School help pastors to rebuild Haiti, click here or email info@antiochschool.edu.
Comments
comments